Major Scholarship Opportunity in Career and Technical Education. The Carroll County Training Consortium began in 1999 with a school-to-work grant to supply the industry with high demand, work ready individuals for our region. Industries such as LG&E-KU, NAS, Nucor, Dow, PMC and the Ohio Valley Charities provide last dollar scholarship funds for students to pursue a degree in high-wage, in-demand fields of study. Students are enrolled full time and must maintain a 2.5 GPA or higher, for the scholarship to automatically renew.
http://future-42.com/
https://jefferson.kctcs.edu/future-42-application/
Senior Scholarship opportunity cfmjc.org Bonnie & Printis Shelton Scholarship (2020 - $1,000) Eligible Applicants: Graduating seniors of Madison Consolidated High School, Southwestern High School, or Trimble County High School accepted into and attending any accredited two or four year college or university. Required: Class rank in the top 20% of graduating class. Criteria Evaluated: Financial need, academic achievement, extracurricular activities. FAFSA EFC required. Apply at cfmjc.org
Attention Sophomores Craft Academy is personally extending an invitation of encouragement for sophomore students across the state to apply to the Craft Academy. cid:e58c5321-f0bf-4d46-a9ac-f2056e627204 There is plenty of time to apply! We are extending the window of application AND this will include opportunities to take, or retake an ACT test: The deadline date to apply to Craft Academy has been extended to March 1, 2021. All application materials must be received by this date. Our deadline extension this recruitment season can be to the advantage of students across the state! Not having had the opportunity this fall to meet with students across the state in assemblies, along with ACT registration changes, we wanted to ensure that all students who were interested in applying had the opportunity to do so. If you have not already taken the ACT or need to increase your scores in a specific area, we encourage you to register for an upcoming test, as soon as possible. There are several new opportunities to take the ACT: · Feb. 6 is a national testing date. Students must register for this test by January 15. o To register for the national test online at
www.act.org
· January 15, January 20, and February 12 are MSU residual (MSU-R) testing dates on MSUs campus. o To register for the ACT-R on MSUs campus, please contact Morehead State University's Testing Center at 606-783-2526. To apply to our program, students must meet the following criteria: · Be a current resident of the state of Kentucky · Be a current high school sophomore · Be on track to complete Algebra I, Algebra II, and Geometry by the end of their sophomore year · Meet, or exceed the benchmarks on the ACT or the SAT o ACT – 18 in English, 21 in Reading, and 22 in Math or o SAT - 520 or higher on the SAT ERW and a 540 or higher on the SAT Math ***You do not have to take both tests. If you have any questions, please email:
craftacademy@moreheadstate.edu
Good morning, Raider Families! We are pleased to announce that ESS will begin again this week. ESS will be held on Tuesday and Wednesday, 3:30-4:30. While any student is welcome to stay for ESS, transportation home is only available for students that sign up in advance for the service. If you would like to sign your student up for transportation home from ESS, please contact Mrs. Jent, at 502-255-7781, ext. 2014. ESS is separate from content-specific after-school tutoring, which is held Tuesday (English/History), Wednesday (Math) and Thursday (Science/Math) with Mrs. Pyles, 3:30-5:15. Students MUST sign up for tutoring, as space limited. To sign up, please contact Mrs. Pyles, 502-255-7781, ext. 2206. At this time, no transportation is available home from tutoring services.
A message for TC students attending the Carroll County Area Technology Center: Next week, January 11 - 15, CCATC will be operating on an A/B Hybrid Schedule. Trimble County students will report to the ATC on Monday and Tuesday, at their regular course times. Each week, we will determine the following week's schedule at 8pm on Thursday evenings and communicate out each Friday.
Students, January 15th is the last day to register for the ACT given on February 6th. Also, any senior high student who did not take the Civics Test in December needs to do so as soon as possible. The study guide and directions are on the Trimble Co. Jr/Sr High google classroom. The code to join is 5kmeoao. This test is online and can be taken multiple times to reach the 60% score to pass. Remember, the Civics Test is a graduation requirement!
Good Afternoon, We have added a page to the TCJSHS website, specifically for scholarship information. Included in that is a website called Go Merry. It has multiple national scholarship opportunities, many of which have few applicants. Do not hesitate to apply for any scholarship! Seniors, I have added the local scholarship to the website as well. The deadline is April 1. I also came across a great opportunity that senior athletes may be interested in. Please see below, and I apologize but the application closes Friday. I just found it today. In particular, we wanted to highlight one big, high-quality scholarship, due this Friday, January 8 (in 4 days!): the Foot Locker Student-Athlete Scholarship, worth $20,000 and given to 20 students. The $20k scholarship is awarded to students who "demonstrate exceptional academic ability and strong leadership skills in sports, in their schools, and within their communities." We haven't seen as many applications as normal for this scholarship--which means a higher than usual chance of winning! As part of the application, students will need to write two essays and get one letter of recommendation (perhaps from you!), so share this opportunity with your students ASAP so they have time to get their applications together.
https://www.trimble.kyschools.us/o/trimble-county-jr-sr-high/page/scholarship-information--117
2500.00 Scholarship Opportunity Scholarship Name: OppU Achievers Scholarship To submit an application follow this link
https://www.opploans.com/oppu/scholarship/
Award Amount: $2,500 Eligibility: High school seniors, college students, graduate students; cumulative GPA of at least 3.0/4.0; U.S. citizen or resident Deadline: March 31, June 30, and September 30, December 31 To Apply: Students submit a short response to the question "What makes you an achiever?"
Attention to any Sr. interested in attending UofL. There is still time for your seniors to apply for admission to UofL using either the Take Flight Application or via the Common App. The competitive scholarship and program deadline is January 15, 2021: Please remind your students who have applied for admission, they have until January 15 to submit additional application and scholarship materials (including a student-involvement resume). Scholarship materials for eligible students are in their UofL Application Gateway in the competitive tab. The Housing Application will open January 19, 2021. Encourage your students to explore the traditional-, suite- and apartment-style options, including our recently completed 452-bed new residence hall. Located in the heart of campus, the hall will house its first students in fall 2021.
Hello, Raider Families! This is Ms. Amy (Pyles), Virtual Liaison for TCJSHS. I wanted to remind you of the after-school opportunities for tutoring, that will resume tomorrow. Tuesday - 3:30-5:15 - English/History Wednesday - 3:30-5:15 - Math Thursday - 3:30-5:15 - Science/Math NO transportation is available. Masks are mandatory and water fountains are for water bottle refills only. Please call me at the school if interested in signing up for this opportunity, 502-255-7781.
Parents, We are anxious for students to return to school tomorrow! In the meantime, we are planning and preparing for the second semester, which begins January 20th, and need to be made aware of any student that will be changing their enrollment option for the second semester. If your student is currently enrolled in the VIRTUAL OPTION, and you plan for them to return to in-person instruction for the second semester, please contact Mrs. Stewart or Ms. Poe at 502-255-7781, by the end of the day tomorrow, January 5th. Additionally, if your student is currently enrolled in the in-person option, and you DO NOT intend for them to return to in-person instruction, please contact us, so we can ensure proper course assignment. If we DO NOT get a response from you by January 5th, your student will continue in their current enrollment status. We will NOT have the ability to change any student from virtual to in-person after the deadline date of January 5th. Please do not hesitate to reach out to us with any questions.
Dear Parent/Student, This is a letter of notification for Juniors and Seniors. Local educational agencies are to provide military recruiters, upon request, access to specific information on a secondary school student, unless the parent of the student or the student opts out of the disclosure of this information in which case the information may not be released without the parents or student's prior written consent. If the student is under the age of 18, the parent must write the letter to opt out. If the student is 18 then the student must submit the letter. The information to recruiters is basic demographics, which may include Name, address, phone number, email, photograph, date and place of birth, major field of study, grade level, enrollment status, dates of attendance, participation in officially recognized activities and sports, weight and height of athletic teams, degrees, honors and awards received and most recent educational agency/institution. At this time, recruiters are requesting name, address, phone number and email if available. If you choose to opt out of this submission, please send in your letter stating so by January 8th at 3:30 pm, to Mr. Craig. You may send via email to
David.Craig@Trimble.KySchools.us
or you may stop by the school and sign a letter opting out. I will also be sending an email to all Junior and Seniors, and a reply stating they choose to opt out will also be acceptable. Thanks and have a great day!
A message for students attending the CCATC: The week of January 4, 2021 CCATC will resume operations as they are currently, providing instruction to students via Google Classroom and in small groups session. Students are required to log in to their Google Classrooms daily during their scheduled ATC course times and strongly encouraged to be physically present for their assigned lab/shop times. If there are individual obstacles to either please communicate those with instructors to be sure we can support in overcoming those obstacles and ensure student success. We (and you) are "Here to Train, Grow to Go!". The skills and knowledge gained through CTE training in CCATC programs can be a student's ticket in to a promising career field. We need our students present and engaged to make that happen. Effective January 11, 2021, all state ATCs will reopen utilizing hybrid schedules, programs will continue an asynchronous virtual instructional platform for every course to ensure all students have access to coursework and receive instructional support, regardless of their instructional setting. The "Healthy at School" Flagship Guidance on Safety Expectations and Best Practices for Kentucky Schools (K-12) (revised December 7, 2020) will be adhered to in planning and implementing face-to-face instruction. Implementation of these mitigation strategies will be essential to ensuring the health and safety of all students and staff. Additional information and details concerning the CCATC reopening plan will be forthcoming as issues are addressed and additional guidance is received. Frequently check email communications, google classroom announcements and our school Facebook page for those developments. For students that have not yet completed the required course competencies in the first semester, we have extended the Term 2 grading period and it will now end Friday January 25, 2021. Second semester instruction will begin Monday January 28, 2021. This also applies to our dual credit courses. We are working to ensure adequate pacing to keep students on track. Active student participation and engagement is vital in that process that leads to proper training and certifications in chosen career pathway programs. We will stay positive, hopeful and patient as we embark on the new chapter of our unique adventure. If I can answer any questions or address any concerns, please feel free to contact me at the number above, or at
Rachel.mefford@carroll.kyschools.us
. Our new Student Advisor is also available to assist, and that is Chad Rose at
chad.rose@carroll.kyschools.us
. Here's to a great 2021, Rachel Mefford, EdS. CCATC Principal
Reminder that if you are interested in the next date for taking the ACT, you must be registered by January 8th.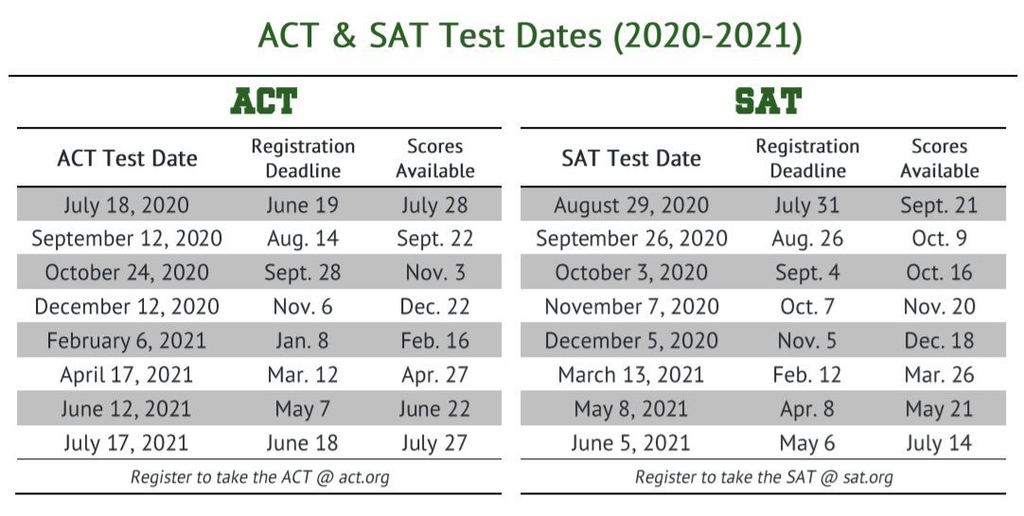 Attention Sophomores interested in attending The Craft Academy Craft Academy and Gatton Academy Class of 2023 admission deadline extended The Craft Academy for Excellence in Science and Mathematics and The Gatton Academy of Mathematics and Science announced on Tuesday, Dec. 15, 2020, their coordinated admissions deadlines will be extended from Feb. 1, 2021 to March 1, 2021. The programs are taking steps to support prospective students in applying for admissions to the academies despite the current pandemic. In addition to extending the deadline, these measures include offering special administrations of the ACT at the academies' host campuses of Morehead State University (Craft Academy) and Western Kentucky University (Gatton Academy). Known as ACT OnCampus (formerly known as the ACT Residual Test), these special testing dates provide prospective students the opportunity to take the ACT exam outside of a national test administration and are less likely to be cancelled or rescheduled. For more information on registering for the ACT OnCampus, prospective students should email the Craft Academy at
craftacademy@moreheadstate.edu
or the Gatton Academy at
academy@wku.edu
. Extending the admissions deadline allows prospective students more time to request letters of recommendation, request official transcripts, and complete required essays. It also gives prospective students who do not take the ACT OnCampus one last national ACT administration on Feb. 6. Note students may not take the ACT OnCampus and test on Feb. 6. Offering ACT OnCampus opportunities and extending the admissions deadline maintain the admissions standards of the Craft Academy and The Gatton Academy while addressing some of the barriers prospective students have faced in this unprecedented time. Both academies are looking forward to next fall with full residence halls and in-person classes.
For our students attending CCATC, concerning in-person classes tomorrow: CCATC will be following suit with some of our partner districts tomorrow, and all in-person classes will be moved to virtual learning. Students, please remember, if your teacher is holding a Google Meet you are required to attend. Also, don't forget that you are responsible for completing any and all work that is assigned. Everyone stay safe, and we'll see you soon!
Attention FALL Athletes!! We want your input! Please take a moment to complete our Player Survey for Fall athletic programs. You will need to be logged into Google using your SCHOOL EMAIL address to access the survey, available at the following link:
https://forms.gle/GPbhq6p3iyUiHLRw9
'Twas the week before break, and all through the land, Students were busy, making their plans. Assignments completed, Google Meets done, Checking their lists to get ready for fun! One simple box, that's easy to check – Graduation requirement – the Civics Test! So come on students, let's get it done, So you can embark on your holiday fun!!
Rudolph had a big party and all the reindeer have had to quarantine! (Whatever happened to not allowing him to join in any reindeer games)?!! Stay calm. We have it on good authority that they will be good to go by Christmas Eve. In the meantime, Santa has enlisted some extra help to spread early Christmas cheer. Be on the lookout Thursday between 11:30 and 3:00. It won't be Santa's sleigh, but something is definitely on the way!