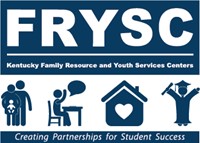 Shawna Jent
Youth Service Center Director
Who can use FRYSC services?
The Trimble County Family Resource and Youth Services Centers are funded through a state grant based on the number of students that are eligible for free and reduced meals. ALL students and families currently enrolled at Trimble County Schools are entitled to receive services regardless of the family's income.
Please don't hesitate to contact us with any questions or comments.
HISTORY
The Kentucky Family Resource and Youth Services Centers (FRYSC) were established as a component of the historic Kentucky Education Reform Act (KERA) of 1990. The mission of these school-based centers is to help academically at-risk students succeed in school by helping to minimize or eliminate non-cognitive barriers to learning.
Schools where at least 20 percent of the of the student population is eligible or free or reduced school meals may compete for FRYSC funding. Approximately 51 percent of students enrolled in Kentucky's public schools are eligible for free school meals.
FRYSCs are strengthened by community partnerships in their ability to provide vital programs, services and referrals to students and their families.
COMPONENTS
To serve students and provide:
Referrals to health services and community resources

Employment counseling, training, and placement

Summer and Part-time job development

Drug & alcohol abuse counseling

Family crisis & mental health counseling
ADVISORY COUNCIL
An Advisory Council Consisting of Parent, community, and school members meets on a regular basis to determine budget, services, and needs of students and their families. The Council membership consists of:
Parents

Community Businesses

Human Services Agency Personnel

School Staff

Student