The Trimble County Schools' District Calendar for the 2020-2021 school year has been revised. The calendar can be viewed here
https://drive.google.com/file/d/1fuSoQuboJNeuYnXYlA72tikvs2pB2Zf8/view?usp=sharing
The calendar will go before the Board of Education for approval at the July meeting. The proposed calendar is very similar to our previous academic calendars except for a delayed start date for students. This delay will allow additional planning and preparation for the upcoming school year. The first day of school for students will be August 26, 2020. We will be sharing specific information next week concerning the "Healthy At School" guidance document that was just released. Regardless of the challenges we are faced with, in regards to planning for the upcoming school year, our team is willing, ready, able and committed..... happily committed, to making the necessary accommodations to meet the needs of our students and this community! #weareTC

We are extremely saddened to report that the Governor has announced that Kentucky's public schools will remain closed for the rest of the school year. There will be more information coming soon with specific plans for Trimble County Schools.

Hang in there, stay strong and do what is necessary to stay healthy. We miss our students, we miss seeing them, we miss watching their sports/activities, talking with them, seeing their smiles.. We love our students & we pray daily for them and this community!🙏 #weareTC

Don't forget that today is meal distribution from 12-1:30. Pick-up at MES and TC Jr./Sr. HS. Today, meals are being served for today, Mon. and Tues. breakfast and distribution resumes Tues. at noon. We hope that you have had the chance to take advantage of this service!

We hope you've had a great week and were able to complete Week 4 Assignments. Those completed packets can be turned in today or any day next week at your child's school. Monday begins Week 5 of NTI. If you need to get assignments for Days 21-25, please contact the school today.
Preschool Registration Packets for the 2020-2021 school year are available now for pick-up in the lobby at the Trimble County Board of Education. Please follow the directions on the table and return the completed forms to the appropriate drop-off box. Questions? Call 663-0022

Meals for the week will be available Tues. & Fri. from 12 to 1:30pm. If you have any questions, please call 255-3201. Currently, we have at least 3 more weeks of NTI Days.... let's all do our part to make them the best that we can and let us know what we can do to help!

Tomorrow, we return to school for Week 4 of Raider Days 16-20. Packets for Week 4 were distributed before Spring Break. If you don't have the instructional packets for this week, please contact your child's school tomorrow. Someone will be available at each school to assist you.

Welcome back to school students, staff and families! We hope that you had a restful spring break and were even able to relax a bit. We had some great weather and we have thoroughly enjoyed seeing photos on social media of our students and staff from your spring break activities!

The Governor just announced to Kentucky Superintendents that schools should remain closed until May 1st. TC Schools will follow this recommendation and close through May 1st. Following Spring Break, we will be planning and communicating plans for NTI Week 6 - Days 26-30.

All meals for spring break will be served tomorrow. Please be patient with distribution because it may take longer than usual. We appreciate your support and patience as we all work together to protect our community and ensure that our students needs are being met! #weareTC

We have asked our teachers to "disconnect" over Spring Break and we would like our students to also if they are caught up. We will be closed over spring break (April 6 - 10) so if you need to pick something up or turn something in, please ensure you do that today or tomorrow.

Tomorrow, concludes our 3rd NTI Week of School. Please do your best to stay on track to ensure that all 15 days of NTI lessons are complete. If you need help, reach out today or tomorrow to get the assistance that you need so that you can take a break during Spring Break.

Don't forget meals will be available on Tuesday and Friday for the entire week. Our meal service has almost tripled since the first day! Hang in there guys... we're all in this together! Let's do all that we can to keep ourselves, our families and our community safe and healthy.

Student packets can be picked up and student work returned in the foyer of each school. Spring Break is scheduled for April 6-10. Every school has packets/lessons prepared and available for the weeks following Spring Break. NTI Week 4 (April 13-17) and NTI Week 5 (April 20-24).

You have been weighing on our hearts and minds! It's hard to believe that it has been two weeks since school was last in session and we're beginning our 3rd week of Non-Traditional Instruction tomorrow! This week (March 30th - April 3rd) will be Raider Days 11-15.

To ensure that we are implementing the safest measures we can for our employees, meal delivery & pick-up service will change next week. Meals for the entire week will be provided on Tuesdays and Fridays, 12 to 1:30pm for pick up & delivery. This week we will still serve daily.

Next week (March 30-April 3), are NTI Days 11-15. Those packets for students are ready and if you did not pick them up last week, you can pick them up at your child's school tomorrow from 9am to 3pm. Parents, please talk to your kids & help ensure they are keeping up each day.

This coming week (March 23-27), are NTI Days 6-10. The packets for this week were also handed out to students before they were dismissed from school on the 13th. Students that are working on-line need to follow the pace in the platform with projects and focus areas.

Good Evening Families and Students, Last week were NTI Days 1-5 (March 16-20). Those packets/lessons were given to the students before they were dismissed from school on the 13th and HOPEFULLY, those lessons are complete and students are ready for NTI Days 6-10 this week.

The Governor just announced to Kentucky Superintendents in a conference call that Kentucky Schools should remain closed until April 20th. Trimble County Schools will follow this recommendation. Spring Break will be April 6 to April 10 and NTI Days will resume after Spring Break.

Call us if you need anything or have any questions or concerns. We are here to support our students, our families and our community. TC Board of Ed: 502-255-3201 Jr/Sr. High School: 502-255-7781 BES: 502-255-3217 MES: 502-268-3322 FRYSC: 502-663-0102 or 502-525-9839

Student Packets for Raider Days 11, 12, 13, 14 & 15 can be picked up at the schools on Thurs. the 19th, Fri. the 20th or Mon. the 23rd from 9am to 3pm. After the 23rd we will make arrangements to deliver packets beginning March 24th through March 27th. We miss our students!!!

TC Families: As a result of the Governors recent recommendations, we will be closing school for an additional week beginning March 30th through April 3rd. The state has granted 10 additional NTI Days to use. We will use 5 of them. These will be Raider Days 11, 12, 13, 14 and 15.

Dear Milton Families: Beginning today, March 18th, the meal pick-up line at Milton Elementary School will be moved behind the school by the gym doors, instead of the front drop of area. This is more convenient for our staff preparing and serving the meals. Thank you so much!

Don't forget about meal pick-up today at MES and TC Jr/Sr. High School between 12pm and 1pm. If you need meal delivery, call 502-255-3201. If you have already requested meal delivery, you do not have to call each day to request it. We already have you on the list. #wearetc

Bedford Bus Route One Ten, driven by Joey Parks will be approximately fifteen to twenty minutes behind schedule this morning. We apologize for any inconvenience this may cause.
It's time for Head Start and Preschool Screenings/Registration. Click on the link provided see screening information and sign-up links! Or, go to our Facebook Page--Trimble County Preschool at Bedford Elementary--to access the link.
https://www.signupgenius.com/go/20F054CAFA629AAF58-trimble

Trimble County Schools will be closed today, Friday, February 7th. Stay safe, healthy and warm this weekend!

School Report Card summaries are now available. These can be found on the district website. In order to access them, go to the menu and under Academics click on the link to School Report Cards. Once this page is open, you will see a link to each school report card.

Congratulations to Traci Duke, Megan Owens, and Sarah Kinslow-Sexton on their achievement obtaining National Board Certification. This is a very significant accomplishment and not easy to achieve. Their dedication and determination to their students and Bedford Elementary School is much appreciated!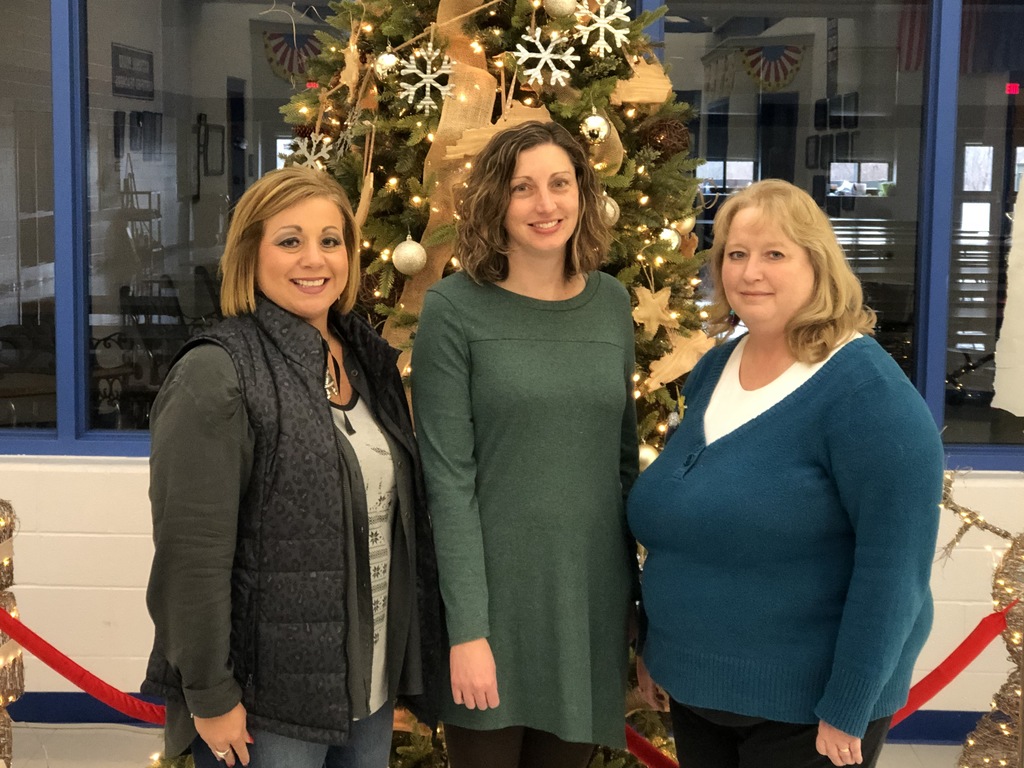 Mr. Brian's bus is at a stand still on Megan lane due to a vehicle parked in the middle of the road. Authorities have been notified. His bus has just started the route and will be behind.

Trimble County Schools will be closed today.

In compliance with safe school measures recommended by the state, any student that makes a statement such as this will not be permitted to return to school until a threat assessment has been conducted. Charges will also be filed with law enforcement as warranted.

Today during school dismissal, it was reported that a Jr. High student made a vague threat about shooting up the school. The principal contacted law enforcement to go to the child's home and ensure that weapons are not available to the student. We take every report seriously.

We would like to commend our staff and students for their quick response to this threat and also our local law enforcement and KSP for acting so quickly. We never intend to scare anyone but we must take every precaution to ensure the safety of our students, staff and community.

Dear Parents, the Kentucky State Police E Crimes Unit was able to determine the Snapchat threat sent to the student originated in England. They have no reason to believe our students are in danger. We are no longer in soft lockdown. Law enforcement will stay through dismissal.

At this time, we have no reason to believe that any of our students are in danger. However, we are taking every precaution to ensure our students safety. Thank you for your cooperation in this matter.

Dear TC Parents and guardians: Our TC Junior Senior High has gone into a soft lock down because one of our students has received a message threatening in nature from an unidentified source. Law enforcement is at the school while we are investigating the source of this message.

Bus number 328, Ms. Sharon's bus and bus number 813, Ms. Phyllis's bus are running behind schedule this afternoon. We apologize for any inconvenience that this may cause and will do our best to prevent afternoon delays in the future. Thank you for your understanding.

Good Afternoon Families, We have made some changes to the bus routes and are currently loading at MES. Buses will leave the school in the next 5 minutes. Expect delays. Thank you for your patience as we work to ensure safety and efficiency in our routes.
Trimble County schools has replaced the One Call system with one that integrates our website, social media, phone call and text. We can communicate information to all stakeholders with one tool! Be aware that when a call goes out it may show up as 501-712-2633 from Arkansas.

The first day of school is rapidly approaching and we are getting ready for open houses at each school. MES starts us off tomorrow, August 6th 5:30-7:30 pm, followed by BES August 7th 5:30-7:30 pm, and the Jr/Sr high on August 12th 5:30-7:00 pm.
Due to the community meeting scheduled on August 8th, MES has changed their open house to August 6th 5:30-7:30.
Open House dates/times for the 19-20 school year have been set: BES August 7th 5:30-7:30 MES August 8th 5:30-7:30 Jr/Sr August 12th 5:30-7:00
Don't forget: 🤞 There is no school Tuesday due to election day. Wednesday is Field Day. Wear your T-shirt. Kona Ice will be available for $2. Thursday: Kindergarten Graduation at 9:00 am/6th Grade Moving up Ceremony at 6:00 pm Friday: Last day of School 🥳 Awards for grades 1-5 at 8:30 am/6th Grade Talent Show at 1:00 pm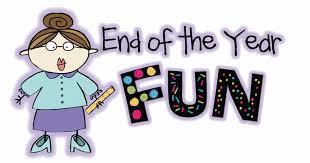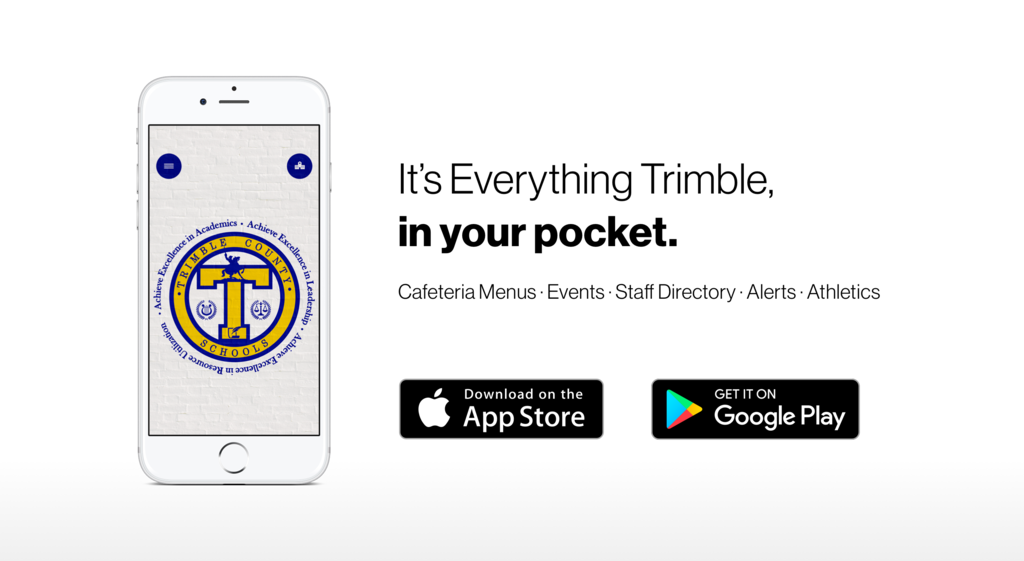 We're thrilled to announce Trimble County Schools' new app! Access sports scores, cafeteria menus, news updates, even emergency notifications. Download the app on Android:
http://bit.ly/2Cpv6vf
or iPhone:
https://apple.co/2CoA77o
.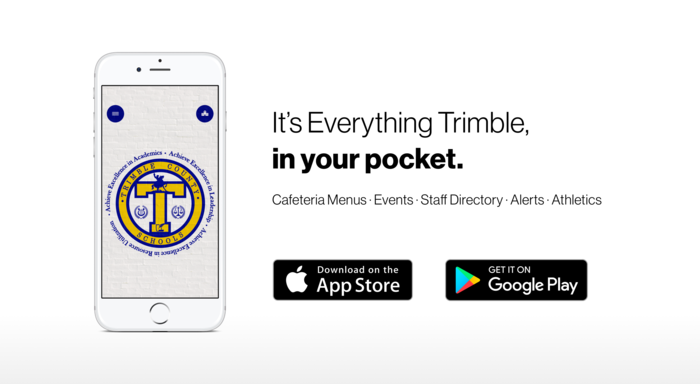 ATTENTION RAIDER NATION: RAIDER FOOTBALL IS BACK FOR 2019!!!: MEETING ON THURSDAY MAY 16th FOR PARENTS AND STUDENTS (GRADES 6th THROUGH 11th) INTERESTED IN PLAYING JUNIOR VARSITY OR MIDDLE SCHOOL FOOTBALL High School football returns to Trimble County as TCHS will be fielding a Junior Varsity team for the 2019 season, with plans to return to varsity competition in the near future. Be apart of the next chapter and start the process of creating a new tradition in Trimble County Football by joining us on Thursday May 16th at 7:00 PM in the High School Cafeteria for information session about the upcoming Junior Varsity and Middle School Football season. For questions and additional information, please contact Coach Simmins at
brian.simmins@trimble.kyschools.us
Hello MES families, ESS will be cancelled today, Monday, April 29th. We apologize for the inconvenience. Tomorrow will be the last day of ESS for the year. Thank you for working with us to support students this year! ~The 5/6 team.
Testing Window dates for this year's KPREP assessment. Attendance is crucial on these days. please plan ahead for appointments or any other issues that may interfere with attendance on these days Elementary--May 6-10 Junior High--May 7-13 High School--May 13-17
Congratulations to TCJSHS STLP Team for competing at the State STLP Competition on 4/18/19. They did a great job and represented Trimble County very well!
To provide a better user experience for parents, PickUp Patrol has released a new app. This Progressive Web App (PWA) is basically a mobile app that is delivered through the web rather than from an app store like Google Play or the App Store for iPhone.
Four Kentucky school superintendents are in the running for the 2019 Kentucky Superintendent of the Year Award. The finalists include Ms. Sherry Horsley (Greenup County), Mr. Steve Miracle (Trimble County), Ms. Patricia Sheffer (Union County), and Dr. Emmanuel Caulk!