Instructional Update 2-11-20
Kathy House
Tuesday, February 11, 2020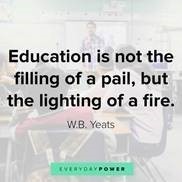 I chose these two quotes as I feel they speak directly to our learner centered focus this month. We as educators set the stage and create the environment in which learning can take place.
As I stated last week, we will be conducting a second round of walkthroughs to review our focus on each section of our learner centered anchor chart. This month, we will return to the "Equitable Learning Environment- Demonstrating Beliefs About Learning".
In the beginning of the year I shared several strategies that touched on the aspects of creating an equitable learning environment and they are referenced below:
· On 8-27, I shared information regarding the importance of a growth mindset and the power of yet.
· On 9-4, I communicated with you about the Zone of Proximal development and ways to scaffold supports to meet students where they are.
· On 9-13, I disseminated information about Maslow and Bloom and the importance of understanding the needs of individual students. The charts attached to that instructional update can help you to determine a "way in" for your students and then how to move them forward through the types of questions you pose verbally and in the work they engage with.
· On 9-19, I explored purpose and relevance as a means to reach all students. If we set the stage and prepare students for learning, we will set them up for success.
· On 9-25, I provided strategies of support to be used in tier 1, core instruction.
I wanted to take the opportunity to direct you back to the work we did in the beginning of the year. All of these instructional updates are available to continually access on the district website under the "news" section. As we continue to refine our learning environments to meet the needs of all students, I encourage you to pick one area to revisit this week and try or refresh some of those strategies in your classroom.
Thank you for all you do for the students of Trimble County!!