Instructional Update 1-21-20
Kathy House
Tuesday, January 21, 2020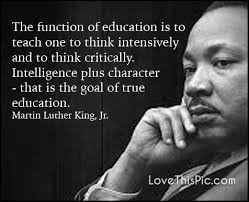 Dr. Martin Luther King, Jr. opened minds and hearts to new ways of thinking. He helped to forge a path forward that forever changed our lives for the better. His deep thinking, sense of urgency, and perseverance are a model for transformation. It is our responsibility as educators to teach our students to think deeply in order to understand.
The practice of embedding thinking strategies in our instructional planning on a regular basis is to empower learners to take ownership and make meaning in order to apply what is learned. These tools provide learners ways to navigate difficult material. I facilitated a professional learning cohort the last few years to help the teachers participating understand how they could incorporate these strategies into their classrooms. I have attached a few documents that might provide some guidance in utilizing some of the structures and routines. The first document is a self-evaluation tool that you can use to determine to what extent you currently utilize these practices. This can then serve as a guide as to further resources or support you might need in order to move to the next level. The second document contains content specific ways to incorporate each of the thinking strategies. These tools can help us to foster the deep thinking that is required of our students in order to help them to achieve their dreams!
Below is a link to the Google Drive folder if you wish to dig further.
https://drive.google.com/open?id=0BymhPMB3lBVmVENTbzVUOV94QVU
Hope you have and wonderful week and thank you for all you do for the students of Trimble County!!