Instructional Update 9-4-19
Kathy House
Wednesday, September 04, 2019
As we continue our focus on An Equitable Learning Environment-demonstrating beliefs about learning, this week I want to unpack the meaning behind ZPD(Zone of Proximal Development). I know that it is a term you may have heard before, but may not be quite sure what it actually means in the classroom and how it impacts your instruction. The visual below provides some insight into the learning continuum and the importance of knowing where our students are on the learning journey at a given time.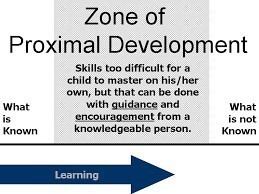 The zone of proximal development is a theory advanced by Russian educational psychologist Lev Vygotsky. The zone of proximal development refers to the difference between what a child can do on his own and the help he needs from someone with recognized expertise in a subject matter. Vygotsky's theory involves the necessity of language, social interaction and group work for childhood learning. The zone helps teachers identify areas in which students need instruction. It is divided into distinct stages:
Assisted Performance-The first stage takes place when a child is first learning a new subject matter or skill and requires help from someone with greater knowledge than his own. Typically, the person who assists the child is someone in a position of authority, such as a teacher, parent or coach who has developed an expertise in the subject area or skill. The assisted child learns through a series of instructional methods that include lecture, question-and-answer, problem solving and positive reinforcement.
Unassisted Performance-As a child gains understanding of the new subject or skill, she moves into the second stage, in which she performs tasks without relying on the person who was assisting her. Though she may not have gained mastery, she is now confident enough to work through the task by herself, even if she makes occasional mistakes. The second stage is still considered a beginning stage because the child has not attained full capacity.
Full Internalization-In the third stage, a student's knowledge reaches the point where performance is automatic and fully developed. Any doubts are gone during this stage, and the student has internalized the skills necessary to perform the task with proficiency. Expert assistance or tutelage is not required or needed, and in fact the student may resent the intrusion or advice of the expert now that he has fully developed his own level of expertise.
Understanding the stage of learning a student is in with a given standard, skill, or competency will guide you as to the level of gradual release of responsibility necessary for the student to achieve success. Matching the level of support with the needs of the student have a huge impact on the outcome. Here are a few examples to illustrate this point:
A 16 year old is able to effectively drive forward and backward but cannot parallel park. Through targeted guidance from a patient parent, the child is able to learn how to park.
Tennis students are able to hit the ball over the net but are challenged by serving. Through appropriate coaching that focuses on their strengths, they are able to learn to serve the ball effectively.
A child is struggling to learn how to read. By working with the student to teach how to sound out words and use other word recognition strategies, the child is able to learn to read.
Instructional scaffolding is a process through which a teacher adds supports for students in order to enhance learning and aid in the mastery of tasks. The teacher does this by systematically building on students' experiences and knowledge as they are learning new skills. I have attached a document that contains 10 strategies for scaffolding support that align with what a student may need in terms of support to achieve the expected outcome-mastery of grade level content.10 ways to scaffold learning There are some embedded links that provide further ideas.
Thank you for all you do for the students of Trimble County!
#WEARETC